History
Introduction to the Subject & Team
The History department is staffed by a dedicated and forward-thinking team of seven teachers.
Miss Victoria Banham
(vbanham@ossettacademy.co.uk)
Curriculum Team Leader
Our two key driving aims are to ensure that all students are able to enjoy learning about history and that all students are aware of how to improve their work. We strive to meet our goals through creative and engaging lessons, through exciting lesson resources and by studying some of the most interesting episodes from world and British history.
In addition to History lessons we also have a website dedicated to helping students so that they don't have to try to remember 'What Sir/Miss said' when they are revising or completing homework. This can be found at https://blogs.ossettacademy.co.uk/history/. We also run the ever-popular Battlefields trip to the First World War sites in France and Belgium and offer a range of opportunities both at lunchtimes and afterschool for support, so that students can take their learning further outside of the classroom.
COURSE CONTENT AT KEY STAGE 3
Students receive a one hour lesson per week in Year 7 and two one hour lessons per week in Year 8.
Year 7
During year 7, students will be introduced to the discipline of history through looking at skills surrounding the use of evidence and developing a sense of chronological understanding. Students will then move on to study Year 7; Term 1 and 2 is The Norman Conquest, Medieval Britain, then Power and Religion up until Tudor times.
Year 8
In the Autumn students will study the growth of empire and the slave trade followed by the British empire, the industrial revolution, WW1 and WW2, the Holocaust and 20th century world.
COURSE CONTENT AT KEY STAGE 4
Year 9 – 11
Medicine in Britain (1250 to present) with the historic environment section on the western front – 30% of grade
Henry VIII and the American West – 40% of grade
Weimar and Nazi Germany – 30% of grade
Exam board/Specification: Edexcel History (9-1)
Assessment and examinations:
Medicine in Britain (1250 to present) with the historic environment section on the western front. 30% of grade,  1hr 15 minutes
Henry VIII (20% grade) and The American West (20% of grade), 1hr 45 minutes
Nazi Germany. 30% of grade, 1hr 20 minutes
In Year 9 pupils have 2 lessons a week, in year 10 and 11 pupils have 3 lessons a week.
CAREER OPPORTUNITIES AND PROGRESSION WITHIN THE SUBJECT
History is an incredibly well-respected qualification because of the important life skills that it allows for students to develop. There are a great number of skills that students will develop such as:
Learning not to believe everything they read.
Learning to construct a reasoned argument that is supported by evidence.
The ability to see things from different perspectives.
The ability to analyse information and make inferences.
A History qualification is seen as a facilitating subject by the top Russell Group Universities in the country therefore, if you opt to study history at GCSE or at A Level and aspire to go down the academic route then a qualification in History is going to carry additional weight on your application form.
There are several careers that are traditionally associated with history qualifications such as careers in law, in education, in politics, in the police force, in the civil service, in journalism in museums and many more. For example the following people have history degrees:
Sacha Baron Cohen (Ali G, Borat etc…)
Jonathan Ross (Presenter)
Loius Theroux (Investigative Journalist)
David Blunkett (Politician)
Lord Sainsbury (Founder of the famous supermarket)
And former Prime Minister Tony Blair is on record as having said 'I wish I had studied History at University.'
George Santayana, a Spanish philosopher once said, 'Those who cannot remember the past are doomed to repeat it.'  We believe that all students can learn lessons from the past that help them to understand the world that they live in, as well as the world that they will experience in the future.
HOW PARENTS CAN SUPPORT LEARNING
If you ever wonder what your child is studying in history then please visit our website https://blogs.ossettacademy.co.uk/history/ or keep an eye on our twitter feed @ossetthistory
On the website you will find a huge amount of resources, including revision podcasts. It is never too early to begin revision, so even the odd podcast in the car or whilst walking the dog will add to the knowledge held inside the brains of our students. This will mean revision is not a big cram at the end.
There are quiz sheets with questions and answers of specialist knowledge that can be downloaded. What better way to start the day than a bowl of cereal and some history questions fired at you by you parents?
Encourage your child to proof read their written work and look up any spellings they are ensure of in a dictionary.
During exam season, help them to create a revision timetable which includes specific revision activities to complete. Your child's class teacher can give them guidance on this.
//this is how the content shows up
Our latest tweets:
Monday 4:46AM, Aug 13
We're
#hiring
...! See
https://t.co/krrRmg5BcB
for further information
#recruitment
#hiring
Now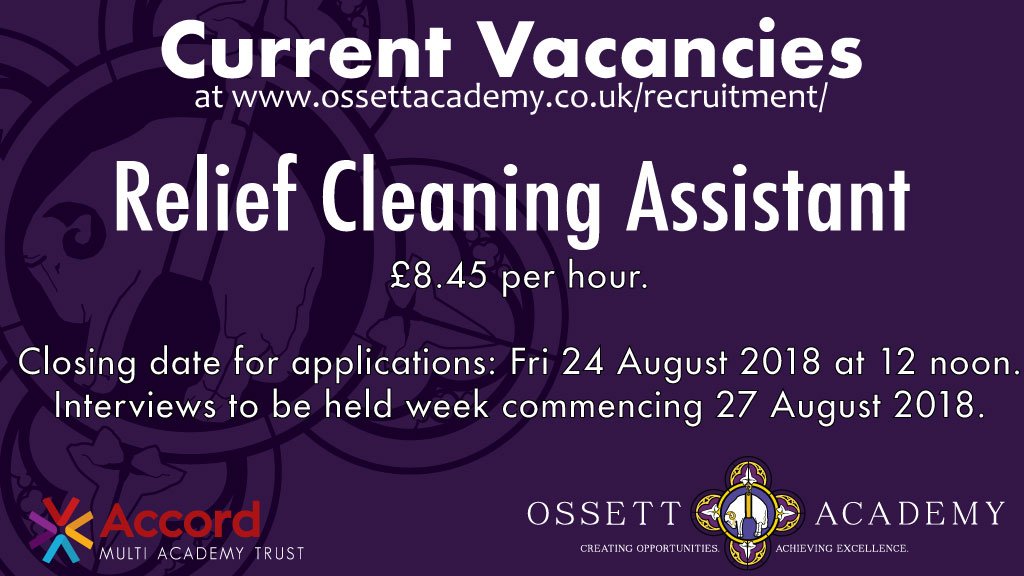 Monday 6:27AM, Jul 16
Our "Summer Festival" for Positive Recognition week is in full swing! Today year 10 students have enjoyed hotdogs,…
http