We Remember…
November 11, 2019
Today, on the 100-year anniversary of Britain falling silent for the first act of national remembrance, we held a series of special remembrance assemblies for each year group.
Mrs Broome's address stressed the importance of taking time to reflect on Armistice Day, which marks the day World War One ended at 11am on the 11th day of the 11th month 1918. It explained how the first two-minute silence in Britain was held on 11th November 1919, when King George V asked the public to observe a silence at 11am. He made the request so 'the thoughts of everyone may be concentrated on reverent remembrance of the glorious dead.'
Mrs Broome said "Remembrance honours those who serve to defend our democratic freedoms and way of life. We unite across faiths, cultures and backgrounds to remember the sacrifice of the Armed Forces community from Britain and the commonwealth. We also gather to remember the Ossett Fallen, 409 men and women of Ossett killed in the First and Second world war.
"We remember all those who supported them: those who worked in munitions factories, women who took on jobs to keep their country running, the men and women of the resistance.
"This year the poppy is also being worn for civilian victims of war and terrorism, thinking about the role played by our emergency services who are the first to arrive to help the victims."
Students, George and Erin, took a leading role, with George reading Josh Dyer's poem 'One Thousand Men are Walking' and with Erin reciting the Exhortation, prior to The Last Post being played. The Hall then stood completely still for two minutes, in a silence well observed by respectful students, before the Reveille signalled Erin to read the Kohima Epitaph 'When you go home tell them of us and say for your tomorrow we gave our today.'
Our very own Careers Week
November 8, 2019
We hosted our annual Careers Week this week, during which curriculum areas delivered careers-related lessons to all year groups, in order to raise students' aspirations and awareness of what their subjects can help them to progress to in the future.
The highlight of the week was yesterday's Careers Convention, featuring over 50 (!!) local and national employers, training and apprenticeship providers, colleges, NHS, Police, Fire Service, Armed Forces and universities available to talk to students about careers and their entrance routes.
Our Employment & Progression Manager, Mr Green, said "This annual event is always a fantastic opportunity for students to delve into a variety of career paths, to ask questions and explore their future options. We are very grateful to the volunteers from a range of career backgrounds, without whom this wouldn't have been possible."
Year 8's Liam Grundy said "I think this event is a brilliant opportunity for us to see what career options are out there, to help us to decide what path we might want to take. Having an idea early in our secondary education helps us to plan for the future, thinking about what subjects to take to get to where we want to be."
Sporting Success – Spotlight on Danny Wassell
November 6, 2019
Our huge congratulations go to our very own Danny Wassell who will start a two-year football scholarship with Championship side, Sheffield Wednesday, on 1st July 2020.
Danny will undertake a higher level Sports Science BTEC at Sheffield Wednesday, in addition to his 15 hours of training per week, as he takes his first steps towards his professional football contract.
His passion for football started at age four when he joined Ossett Town, where he remained until he was signed with Sheffield Wednesday, eighteen months ago.
Danny has also been called up to play for Wales, where he will be attending his first training camp in August.
Danny's mum, Susanna, said "We have nothing but praise for Sheffield Wednesday. They have worked Danny hard but are also all about trying to promote talent and instil resilience in all their academy players. They have always promoted the importance of his education as well as his football. We are all ecstatic as you can imagine!"
Mr Price, Curriculum Team Leader of Physical Education, said "We are extremely proud of Danny's achievements and are looking forward to following his majestic journey towards the goal of becoming a professional football player. We wish Danny all the best in his career."
Life-saving training for Year 8
October 16, 2019
Today, we supported the national Restart a Heart campaign with a special event in school for Year 8 students.
Restart a Heart is an initiative led by the Resuscitation Council, in partnership with The British Heart Foundation, British Red Cross, St John Ambulance, Yorkshire Ambulance Service and Police. It aims to improve the low numbers of people surviving out-of-hospital cardiac arrests by increasing public awareness of cardiac arrests, as well as the number of people trained in life saving CPR. As such, all Year 8 students were taught emergency CPR procedures as part of the day. It was also an opportunity to inform students about the career opportunities within these organisations.
We were also lucky enough to also be visited by Deputy Lieutenant, Colonel Alan Roberts OBE, who wanted to come along to show his support for this important work.
Lights, camera, action!
October 15, 2019
We've been visited by a film production company today, working in partnership with Wakefield Clinical Commissioning Group who wanted to showcase the excellent emotional and mental health provision within our academy.
The film will be shared with other schools, educational staff and professionals to highlight the great practice of supporting students in developing resilience and improving their emotional well-being.
We'll let you know when it's available to watch!
Making mental health a priority
October 10, 2019
Here at Ossett Academy, students' positive mental health and well-being is a priority each and every day, and today, on World Mental Health Day, staff and students are going one step further, having conversations and making individual pledges about how to look after their own mental health.
Ossett Academy was one of the first academies regionally to employ a Mental Health Practitioner, based in our Let's Talk Zone – a purpose-built, nurturing environment for students who require additional emotional support.
Miss Gaskell works with students who are struggling with their emotional and mental health for a variety of reasons, including students who are self-harming, have suffered a bereavement, have low self-esteem or confidence, or who may be struggling with exam stress or anxiety.
A student who feels they would benefit from emotional and mental health intervention, support or advice, should first talk to their Pastoral Year Leader, who can determine the appropriate referral for their individual needs.
Once a referral has been made to the Let's Talk Zone, Miss Gaskell will work with the student, assessing the most appropriate support; this could be group work or one to one support, support from the School Nursing Team as part of Healthy Young People's offer, or by signposting to external support services for young people.
The Let's Talk Zone runs student support groups, for example; LGBT+, exam stress and anxiety, self-esteem and confidence. There is also a daily drop-in at break and lunch, open to all students who feel they need a place to be, or people to talk to – they can get that every day just by dropping in. Parents also benefit directly from the provision through regular parent workshops.
Miss Gaskell said "As in previous years, we're honouring World Mental Health Day at Ossett Academy. We know that mental ill-health doesn't discriminate – problems can affect anyone, at any point in their life. My role is to assess and support some of our more vulnerable students, to ensure they access the appropriate level of support to meet their needs.

"Alongside this, we recognise the importance of promoting and advocating positive mental health and taking ownership of our own well-being, which can change from day to day. We're also working to redress the stigma that surrounds mental health, through raising people's understanding of it. Although this is something we do daily, this important, global day is a fantastic opportunity to let people know what we do, and to hopefully go one step further in changing any negative perceptions that can still exist around the subject of mental health.

"Whilst this provision is in place we also have lots more to do to build even more support in to the offer we have. We encourage the whole Ossett Academy community to be a part of this."
To find out more about the support offered in our Let's Talk Zone, as well as a list of useful support services, visit www.ossettacademy.co.uk/the-academy/lets-talk-zone.
Changes to the academy day from September
July 19, 2019
Following the parent consultation that took place earlier this term, here's a reminder of the changes to the academy day from September.
Outlined below are the key changes and an overview of the timetable each year group will follow.
Timings for Year 7
8.30am – 8.55am: Form Learning
8.55am – 9.55am: Period 2
9.55am – 10.15am: Break
10.15am – 11.15am: Period 3
11.15am – 12.15pm: Period 4
12.15pm – 12.45pm: Period 5 (first half)
12.45pm – 1.15pm: Lunch
1.15pm – 1.45pm: Period 5 (second half)
1.45pm – 2.45pm: Period 6
Timings for Year 8
8.30am – 8.55am: Form Learning
8.55am – 9.55am: Period 2
9.55am – 10.55am: Period 3
10.55am – 11.15am: Break
11.15am – 12.15pm: Period 4
12.15pm – 1.15pm: Period 5
1.15pm – 1.45pm: Lunch
1.45pm – 2.45pm: Period 6
Timings for Year 9
8.30am – 8.55am: Form Learning
8.55am – 9.55am: Period 2
9.55am – 10.15am: Break
10.15am – 11.15am: Period 3
11.15am – 12.15pm: Period 4
12.15pm – 12.45pm: Lunch
12.45pm – 1.45pm: Period 5
1.45pm – 2.45pm: Period 6
Timings for Year 10
8.30am – 8.55am: Form Learning
8.55am – 9.55am: Period 2
9.55am – 10.55am: Period 3
10.55am – 11.15am: Break
11.15am – 12.15pm: Period 4
12.15pm – 1.15pm: Period 5
1.15pm – 1.45pm: Lunch
1.45pm – 2.45pm: Period 6
Timings for Year 11
8.30am – 8.55am: Form Learning
8.55am – 9.55am: Period 2
9.55am – 10.55am: Period 3
10.55am – 11.15am: Break
11.15am – 12.15pm: Period 4
12.15pm – 12.45pm: Lunch
12.45pm – 1.45pm: Period 5
1.45pm – 2.45pm: Period 6
Timings for 6th Form
8.30am – 8.55am: ILC Study (Optional)
8.55am – 9.55am: Period 2
9.55am – 10.55am: Period 3
10.55 – 11.15am: Break
11.15am – 12.15pm: Period 4
12.15pm – 1.15pm: Period 5
1.15pm – 1.45pm: Lunch
1.45pm – 2.45pm: Period 6
Going a long way for Forget Me Not Children's Hospice
July 15, 2019
Over the last two weeks, our Accord Multi Academy Trust's academies have united in support of Forget Me Not Children's Hospice's 'Around the World' campaign, raising a combined total of £1,632.
In collaboration with our sister academies; Horbury Academy, Horbury Primary Academy and Middlestown Primary Academy, we held non-uniform days, sporting events and dedicated PE lessons, in which students collectively walked, ran and skipped a total of 2,354 miles. This figure will go towards the charity's regional total, which they hope will exceed 48,000 miles – that's twice around the world!
Ryan Grint, Regional Fundraiser at Forget Me Not Children's Hospice said: "We would like to say a huge thank you to everyone within the Accord Multi Academy Trust for getting behind Forget Me Not Children's Hospice this summer.
"We've seen students engage in fundraising in a variety of ways, from running to non-uniform days, and together they have helped to raise some vital funds which will go towards supporting local children living with life shortening conditions, and their families, here in West Yorkshire."
Year 6 pupils from Horbury Primary Academy spoke on behalf of the Trust's pupils; "We had fun taking part in this important cause to raise money for children less fortunate than us.
"We have done lots of activities to try to travel as many miles as possible and we are proud of how far around the world we got!"
Visit www.forgetmenotchild.co.uk for more information about the charity.
The great environmental debate!
July 9, 2019
In support of our environmental drive, Miss Cree held a debate with year 7 students, for which they needed to consider arguments for and against a statement with an environmental focus. The statement was…
"People in the UK should give up meat for one day a week to help lower the greenhouse gas produced."
Students considered their stance on this and worked on their arguments in support of their view.
Here's Kathryn's take on the debate…
"During the planning, what I found most interesting was looking at the other side of the argument, the 'against' team. We did this to try and make our argument stronger.

"A challenge was that we had so many ideas, and it was hard choosing points that were the important, and conveyed our message most effectively.

"During the debate, Erin and Isabelle were excellent at expressing our view. They said all our planned speech clearly and it conveyed our message well. However, I was surprised at how good the 'against' team's argument was, as we had thought of as many of their sides ideas as we could, but they still had a very strong argument.

"Personally, I enjoyed the debate along with many other members of the form. We developed our teamwork, speaking and listening skills, and due to the high quality and strength of our arguments, one person changed his mind."
Jack was on the opposing side of the debate. He said…
"Our main point for against people giving up meat for a day was that even if we don't eat meat for one day, it will have to still be produced because people may choose to eat meat on different days in a week.

"We had good discussions, one person switched their opinion from 'against' to 'for'. One challenge was that we found it hard to decide which side to be on due to both arguments being so strong!"
Alex agreed, saying the affect it would have on businesses such as KFC would need to be considered.
Well done everyone, for what was a well considered and delivered debate!
Forming Partnerships for Safeguarding Week
June 24, 2019
To mark West Yorkshire Safeguarding Week this week, our Accord Multi Academy Trust has joined forces with Wakefield Community Crafters in a venture designed to support local students in need of support.
Miss Gibbs, Horbury Academy's Assistant Principal and Designated Safeguarding Lead, said "We are extremely grateful to Wakefield Community Crafters' volunteers who have donated 75 trauma bears to our Trust. The bears will be given to students who have experienced a trauma for instance; those who are living with a disability or have had an operation, have experienced a loss or parental separation, or had to leave their home because of a fire or a flood. They can help young people to hold on to a memory or overcome a trauma, and are designed to put a smile on students' faces by volunteers who have either experienced a similar trauma or life event, or simply want to help."
Mrs Rowe, Assistant Principal and Designated Safeguarding Lead at Ossett Academy, added "Our Accord academies are committed to ensuring students feel secure, happy and safe. We believe this generous initiative, alongside existing support within our academies, will go some way towards achieving this."
Safeguarding Week runs across West Yorkshire from Monday 24 June to Friday 28 June. Its theme 'Everyone's Business', highlights the commitment shared across the region to keep children, young people and vulnerable adults safe.
In the Wakefield District, people worried about their safety or the safety of a friend or family member, can call Social Care Direct on 0345 8 503 503 where specially trained staff will listen and provide support.
Visit www.horburyacademy.com/Parents/Safeguarding and www.ossettacademy.co.uk/the-academy/safeguarding for Horbury and Ossett Academies safeguarding information.
Our latest tweets:
Friday 7:00AM, Nov 15
Children in Need, Remembrance Day, Anti-Bullying Week....it's all been going on this week! Check out the latest edi…
http
Thursday 7:10AM, Nov 14
...Could this be you? Find out more at
https://t.co/E5BVa62IIx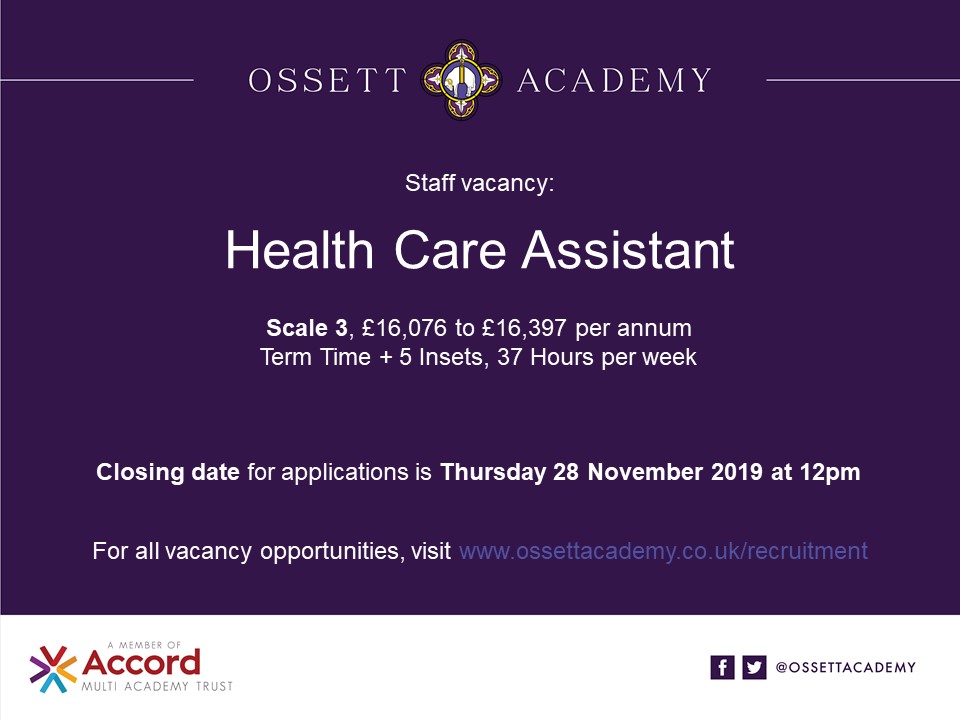 Tuesday 6:29AM, Nov 12
We're proud to be supporting
#childreninneed
on Friday with a students v's staff bikeathon... so get those energy l…
http