Children's Mental Health Week 3rd – 9th February 2020
February 3, 2020
According to the mental health charity 'Place 2 Be', 1 in 8 children have a diagnosable mental health condition. The charity set up Children's Mental Health week to shine a light on the importance of children and mental health. This year's theme is 'Find Your Brave'.
Bravery comes in all shapes and sizes and is different for everyone. Bravery can be about sharing worries and asking for help, trying something new or pushing yourself outside of your comfort zone, it can build your confidence, self-esteem and make you feel good about yourself. Life often throws challenges our way. Bravery isn't about coping alone or holding things in. It's about finding positive ways to deal with things that might be difficult, overcoming physical and mental challenges and looking after yourself. We all have times when we need to 'Find our Brave'.
Place 2 Be suggest a few simple ways you can encourage your child to 'Find their Brave':
Remind your child that bravery comes in many forms and everyone is different. What's brave for them might not feel brave to someone else.
Chat with your child about a time when you've had to Find your Brave. It might have been something big or small.
Praise your child when they Find their Brave. Maybe they've kept going at learning a new skill or tried something outside of their comfort zone which boosted their confidence.
Point out examples of bravery in books and films to your child and talk about how trying out different ways of being brave will help them feel good.
Reassure your child that not feeling brave is OK too and that there are times when it might be more difficult to be brave.
During children's mental health week, assemblies will take place to raise awareness of mental health and identify a range of pathways for support. Students will also develop their understanding of mental health and 'Finding their Brave' through discussion and using a range of tailored resources.
Ossett Academy has continued to devote significant energy and resources to children's mental health and well-being. We have established the 'Let's Talk Zone' which offers drop ins, 1-2-1 sessions and group sessions which allow our students to build friendships and ensures they do not feel isolated in their experiences. In addition, the Healthy Young Peoples Clinic offered by the School Nursing Team allows our students to access support on a range of physical and mental health issues that affect young people today. Parent awareness and support sessions have also been led by CAMHS for the parents of Ossett Academy students.
We also recognise that developing the experience and understanding of both teaching and non-teaching staff within the academy is crucial. To achieve this, our staff have engaged with the 'Future in Minds' programme and we are increasing the number of staff who have been trained in Mental Health First Aid. We shall also be holding a professional development workshop led by CAMHS in February for all colleagues within the academy, focusing on supporting students with their mental health. On Tuesday year 10 students at Ossett Academy shall spend the morning developing their understanding of mental health, strategies to overcome stress & anxiety and good sleep hygiene. Finally, Miss Gaskell and Sarah Kendrick (CAMHS) will also hold a phone 'drop in' session on Wednesday 5th February 2020 from 9.15am to 11.30am, should you wish to gain understanding and advice.
If you are concerned about your child's mental health or that of someone close to you, you may also find some of the resources below useful for future reference:
Childline – Online and on the phone counselling service up to the age of 19, anytime support available on 0800 1111.
Grief encounter provides support for young people and families. Call the helpline on 0808 802 0111.
Kooth Free and anonymous online counselling and support for 11-19 year olds.
Papyrus If you are a young person at risk of suicide or are worried about a young person at risk of suicide. Call 080 068 41 41 Mon-Fri 9:00 am to 10:00 pm, Weekends 2:00 pm to 10:00 pm or Bank Holidays 2:00 pm to 10:00 pm.
Samaritans – Free anytime call 116 123.
Star Bereavement or call 01924 787384 for advice, support and access to additional services.
The Mix Go online or call 0808 808 4994 for 1-2-1 chat, advice and help up to the age of 25.
Turning Point Talking Therapies – Available for people aged 16 plus and registered at a GP surgery in Wakefield. They offer counselling, self help resources and workshops.
Young Minds Leading mental health charity for young people – Call the Parents Helpline: 0808 802 5544 (Monday to Friday 9.30am – 4pm, free for mobiles and landlines).
In addition to the resources listed above, you may find the following apps or web pages useful in supporting your child:
Calm Zone offered by Child line, Calm Zone suggests breathing exercises, activities, games and videos to help let go of stress.
App – The distrACT app gives you easy, quick and discreet access to information and advice about self-harm and suicidal thoughts. The content has been created by doctors and experts in self-harming and suicide prevention. Download for free from the Apple or Google Play store.
Calm Harm App – A free award winning app developed to help young people resist or manage the urge to self harm and based upon the principles of Dialectical Behavioural Therapy (DBT). Download for free from the Apple or Google Play store.
Wakefield Council Leaflets and Guidance  This page offers guidance on exam stress, coping with difficult feelings and supporting a young person with stress, depression or suicidal thoughts.
We hope you have found this information useful in supporting your child and we thank you for your continued support.
Our latest tweets:
Thursday 6:28AM, Feb 13
As tomorrow is an Inset Day, here's this week's edition of Weekly Roundup!....www.ossettacademy.co.uk/weekly-roundup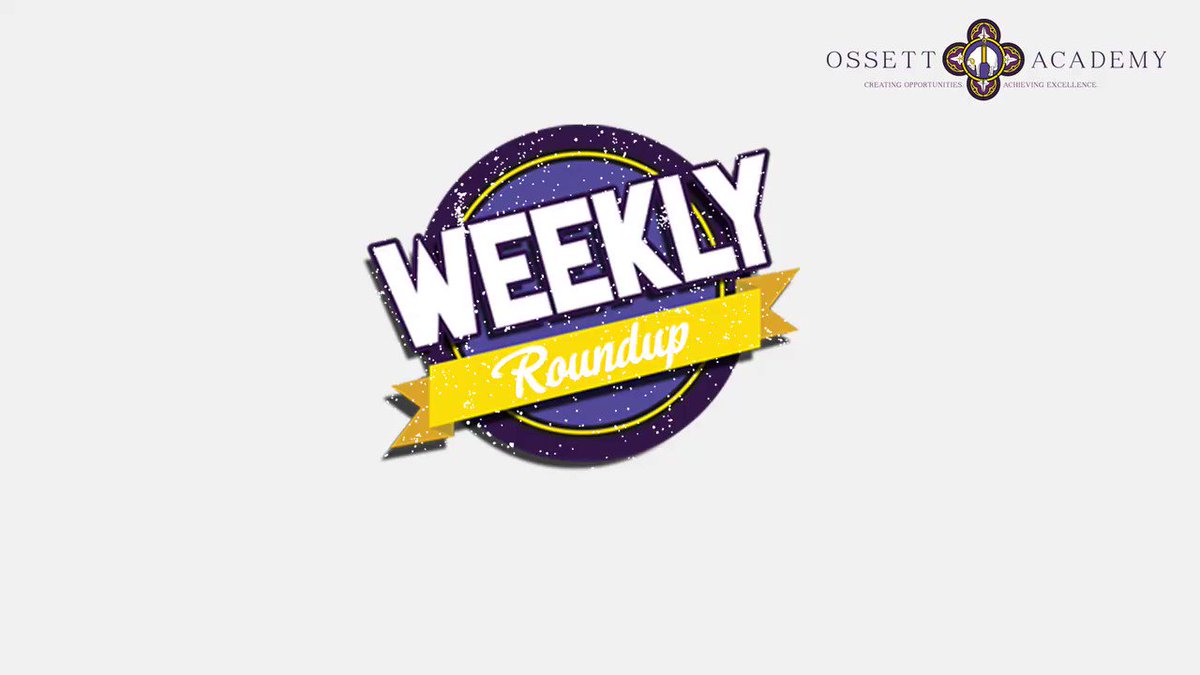 Tuesday 1:34AM, Feb 11
RT
@accordmat
: Today is
#SaferInternetDay
. Here's some useful information to help you to talk to your children about onlin