English
Introduction to the Subject & Team
The English department is staffed by a dedicated and forward-thinking team of seventeen teachers and two Learning Mentors. The English Leadership Team consists of the following staff:

Mr Matthew Vellensworth
(mvellensworth@ossettacademy.co.uk)
Director of Language and Literacy

Mrs Lindsey Goode
Curriculum Team Leader of English

Mrs Lyndsey Chand  
Acting CTL of English (Key Stage 5)

Mrs Brigette Bake
Acting CTL of English (Key Stage 4)
Our vision is to inspire our students to be the thinkers, writers and creators of tomorrow, as we hold the keys to developing their literacy, creativity and curiosity to ensure them success in the wider world. We aim to build a nurturing learning environment that supports an ethos of resilience, confidence and self-belief through our shared commitment and determination; our students are challenged to take a glimpse through our windows of opportunity, as we hand them their own set of keys for a successful future.
In addition to core English lessons, we offer a range of extra-curricular activities and opportunities. These include Film Club and a Creative Writing Club, which has participated in a number of national writing competition recently,with great success. We also run a Sixth Form study group, additional study support sessions after school, as well as exciting educational trips including theatre trips to productions such as An Inspector Calls, and Hamlet.
Click here to visit the English Dept Microsite
Course Content at Key Stage 3
Students receive four one-hour lessons of English per week and are placed into sets using Key Stage 2 data, plus the academy's assessment data as they progress through Key Stage 3.
Year 7
During Year 7, students will be introduced to a range of engaging fiction and non-fiction texts. In the Autumn term we start with some exciting work surrounding war novels, with students reading either Michael Morpurgo's Private Peaceful or John Boyne's The Boy in the Striped Pyjamas.  In the Spring term, we examine Shakespeare's life and works through our study of 'A Midsummer Night's Dream', and in the Summer team, we explore a range of inspiring and challenging poetry, centred around the theme of 'Growing Up.
Year 8
The Autumn term sees students studying a challenging and engaging modern novel, Heroes by Robert Cormier.  In the Spring term, we study Romeo and Juliet in detail, giving students an understanding of Shakespeare's writing which is excellent grounding for their exam studies at Key Stage 4.  the Summer term focuses on a range of poetry from a variety of different cultures, allowing students to develop both specific analysis skills and their wider knowledge and understanding.
Year 9
In Year 9 students make the transition to the GCSE Course.  Our first unit, in the Autumn term, is an Introduction to Nineteenth Century Literature and non-fiction, which is designed to prepare students for the demands of the GCSE course.  In the Spring Term, students study a varied range of poetry, themed around Power and Conflict.  In the Summer term, students study Macbeth and develop their understanding of Shakespeare's craft.
Selected students in Year 7 and 8 also participate in our Accelerated Reading programme, which involves a fortnightly reading session in the library and a computer-based quiz to confirm understanding. The AR programme has excellent results and we regularly see substantial improvements in students' reading ages over the course of a year.
Course Content at Key Stage 4
Year 10 and 11
Exam board/Specification: AQA GCSE English Language / English Literature
English Language
Paper 1: 1 Hour 45 Mins, 80 Marks, 50% of the GCSE
Explorations in Creative Reading and Writing
Section A: Reading
Section B: Writing
Paper 2: 1 Hour 45 Minutes, 80 Marks, 50% of the GCSE
Writers' Viewpoints and Perspectives
Section A: Reading
Section B: Writing
English Literature
Paper 1: 1 Hour 45 Minutes, 64 Marks, 40% of the GCSE
Section A Shakespeare: 1 Question based on a Shakespeare play studied in class
Macbeth by William Shakespeare
Section B 19 Century Novel: 1 Question based on a novel studied in classA Christmas Carol by Charles Dickens
Paper 2: 2 Hours 15 Minutes, 96 Marks, 60% of the GCSE
Section A Modern Texts: Answer 1 Question on a text studied in class
An Inspector Calls by J.B. Priestley
Section B Poetry: Answer 1 Question based on poetry studied in class
Poems from the 'Power and Conflict' Anthology Cluster
Section C: Unseen Poetry:  Answer two questions based on unseen poems
During Year 10 and Year 11, students will start to study and prepare for their GCSEs in both English Language and English Literature. Exams for these two subjects will be taken at the end of Year 11. At KS4 English students will study a wide range of English Literature and will have a chance to study novels and plays from the 20th and the 21st Century along with a range of 19th Century texts. Alongside this, there will be a chance to analyse non-fiction texts from the 19th and 20thCentury that will include appreciation and analysis of language. Students will also study a Shakespearean play in depth.
Career Opportunities and Progression within the Subject
At Ossett Academy, we want all students to enjoy English and be confident in their use of everyday English in the wider world. Whether or not a student formally carries on with English in a qualification or career, the ability to communicate is an essential skill. However, there are various options for students who want to make English a central part of their life after GCSEs.
Firstly, there are two specific English A Levels available (English Language and English Literature ), which seek to extend and develop the appreciation of language developed at GCSE. A Levels such as Film Studies and Media Studies also incorporate similar skills to those used in English, but through the analysis of more 'visual' texts. Many students who enjoy GCSE English go on to study these A Levels.
Beyond school and college life, the opportunities with English are boundless. There are a whole range of degree level courses from English itself to Creative Writing, Journalism and Communication Studies (to name just a few), as well as courses that focus on specific aspects of English.
There are probably few careers where confident use of English is not essential and whilst journalism, teaching and writing are probably the most obvious examples of careers using English, the list is endless. Speechwriting, news presenting, marketing, careers in film and theatre, researcher, reporter. Any job where you need to be clear, concise and imaginative in your communication will be easier with good English skills.
How Parents Can Support Learning
Take an interest in your child's weekly English homework and ensure that they are spending an appropriate amount of time on it.
Encourage your child to proof read their written work and look up any spellings they are ensure of in a dictionary.
Encourage reading for pleasure (fiction and non-fiction, including newspapers and periodicals).
In Years 7 and 8, monitor your child's Accelerated Reading progress by checking the relevant section in their planner and asking them about the book they are currently reading.
Encourage your child to examine all texts critically e.g. web pages, leaflets, letters, articles, etc.
Encourage your child to help you with any 'real life' writing tasks you might have a home, for example writing a letter or e-mail of complaint or job application letter.
Purchase copies of the GCSE set texts and revision guides (your child's class teacher will inform them of the titles and relevant editions).
During exam season, help them to create a revision timetable which includes specific revision activities to complete. Your child's class teacher can give them guidance on this.
//this is how the content shows up
Our latest tweets:
Monday 4:46AM, Aug 13
We're
#hiring
...! See
https://t.co/krrRmg5BcB
for further information
#recruitment
#hiring
Now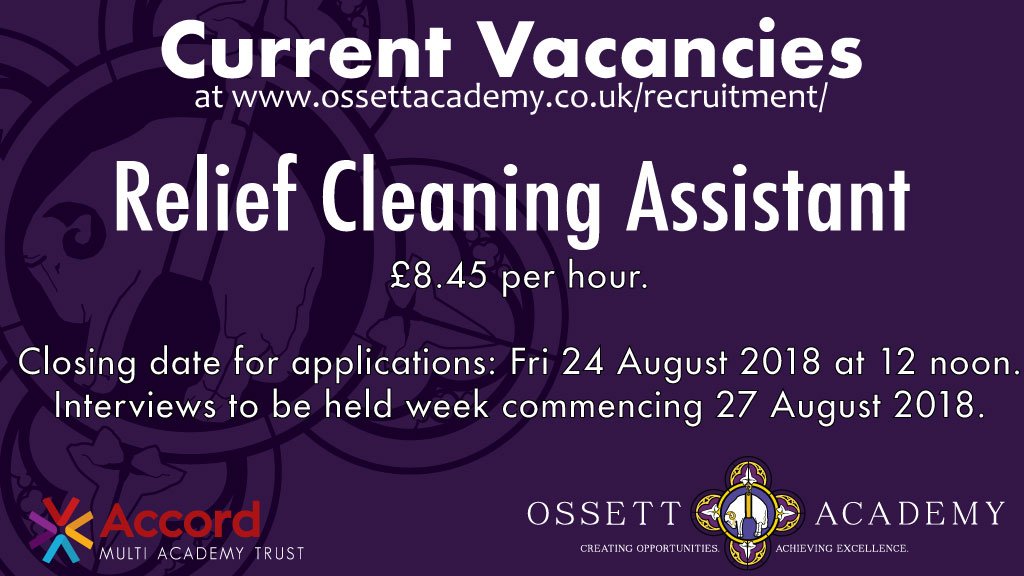 Monday 6:27AM, Jul 16
Our "Summer Festival" for Positive Recognition week is in full swing! Today year 10 students have enjoyed hotdogs,…
http