Supporting Success
Supporting Success for Year 11 2017-2018
Click here to jump down to the Yr11 Revision Support Calendar
Year 11 StudyClubs and Tutorpod Sessions are detailed over on our ExtraCurricular page.
Examinations
The most recent versions of the main Summer Exam Timetable (revised 26/4/18) and Yr9, 10 and 12 Mock Exam Timetable (added 25/5/18) can be found on the Exams page.
In order to ensure all students are fully supported to be successful in their GCSE year, teachers and leaders at the academy have created a package of support for students. These packages have been designed with several key considerations:
It is only one aspect of GCSE support – without exception how a student applies themselves to learning in lessons; homework and their independent revision, is by far the biggest influencing factor in terms of success.
It is based on experience and what we know is effective in terms of supporting students' success.
It is a personalised package that will look different for every student depending upon their different needs. If a student has been invited to something then trust that we have invited that student because we believe it will make a difference. Similarly, if a student has not been invited don't panic – it's because we believe it is not necessary and other activities might be better for them.
Student personalised support package
How does it work?
Throughout a student's time at the academy they are regularly assessed to check on their progress. This process of assessment provides teachers and leaders with key information about their learning. It tells us the things that student is doing well at and the things they may need support in. We use this assessment information to then plan out any different support we can put in place to help that student to address gaps in learning. Most of this support will come in lesson time, via homework and independent revision, but where we feel this might not be enough to support progress we will look to provide additional support. This could look like lots of different things and will very much depend on the individual.
What do we need from the student to make this work?
Experience and evidence based research, has shown us that a student's mind set, attitude to learning and revision and the effort they put into their work is the biggest factor in securing success. With that in mind our expectation is that students:
Work hard and do not give up when presented with a challenge – GCSE's are difficult – students will find things hard – it is the way students approach these difficulties that will make the difference to their end result.
Focus on the process and not the outcome – learn how to do something well by learning from mistakes – and part of this process is making mistakes and learning from them. A student who has achieved 50% in a test but has taken the steps to learn from the errors will be in a much better place in their final exams than a student who gained 70% and chose to sit back and take it easy!
Work in partnership with the teachers – students must remember that many of their teachers are working on a voluntary basis to support their learning outside of the classroom. It is important that students appreciate this – they do not have to give up their break time or lunch time to support students – but many do, because their students' success is important to them.
Finally, students need to do it for themselves – teachers, parents and carers will always be proud of a student when they work hard and achieve their best but that shouldn't be the motivating factor. Students should be proud of themselves and work hard for themselves, after all they are the ones to reap the benefits!
Supporting Success
The additional interventions that may form part of a personalised package of support.
Support activity
What is it?
Who are they for? How and why is it helpful?
Subject form groups
These are form groups that will allow students to access more curriculum learning time – they  tend to focus on Maths and English
Across a week, 4 form times equates to an additional 80 minutes of learning time in an area you need support in.
Targeted students only
Study clubs

These will run at the end of the academy day and will be an opportunity for students to revise with a teacher on key topics they are finding difficult. Students need to come prepared with questions and topics they want support with.These will run in most subject areas.

Yr11 Study Clubs are detailed over on our ExtraCurricular activities page.

These will allow students to support their own independent revision.These are open to all students
Tutor pods

These are new for 2017/2018

Tutor pods allow students to book an on line 20 minute appointment with a maths or English teacher to specifically learn a skill or area of the curriculum that is causing them concern. The responsibility is placed on the student to make the appointment but a teacher may direct this for some students where necessary. If relevant a small group of students could make an appointment together. An overview of Tutorpod sessions for specific evenings and subject areas can be found on our ExtraCurricular activities page.

This is in essence an opportunity for one to one tuition based on a student's revision and learning needs.These are available to all students and some students will be directed to attend.
Period 6
There will be a significant reduction in period 6 lessons this year, however period 6 lessons may be scheduled for targeted students based on coursework completion.It is likely that if a student undertakes triple Science they will be asked to attend a period 6 session most weeks.
Targeted students only
Learning Conferences
A learning conference will take place between 1pm and 5pm and will be used to support Maths and English.Students will work on areas of development as part of a series of workshops across the afternoon.
These give students concentrated time to focus on subject areas to develop skills. Targeted students only
Pizza and pop nights
These take place at the end of the school day and will focus on key aspects of revision and exam practice. We recognise that revision is hungry work so refreshments will be provided!
These give students concentrated time to focus on subject areas to develop skills.Targeted students only
Revisions guides
These are selected by teachers based on the exam board and the quality of the guide.Students will have lots of opportunities to buy these from the academy.
These are available to all students
Walking talking mocks and walking talking marks
These are designed to talk students through an exam so they can understand how to approach each question in the best way. Students will hear their teachers thinking out loud as they talk them through the answers.Students will then repeat the exam so they can have the opportunity to replicate the same thinking process.
Targeted students only
Early Bird support
We recognise that some of our students come into the academy early and would welcome the opportunity to revise before the school day begins.
These are open to all students
Assemblies that help students to understand how to learn effectively and how to revise
Assemblies next year will focus on supporting students to understand how to get the most from their brain in terms of learning and revision. Students will be given a notebook to help them keep track of any hints and tips we will share with them over the year.
All students are expected to attend
Easter school
This provides students with an opportunity to undertake targeted revision during the Easter break
Targeted students only
June half term school
This provides students with an opportunity to undertake targeted revision during half term break – by this point exams will have already started.
Open to all students but groups will be created to target key areas for development
Master classes
Just before and during exams we will create a new timetable that gives students master class revision time before each exam.Factored into this is additionally the time to complete any independent revision.
Open to all students but groups will be created to target key areas for development
Team Challenge
This is used to help students motivate themselves in the final weeks before the exam.Students are placed in teams and each team has a teacher leader who will work with their team to ensure that students work hard in classes and remain motivated.Prizes and challenges take place along the way.
Targeted students only
Exam anxiety one to one support
We understand some students will suffer from anxiety during the exam season and before.Work with Mrs Gaskell in advance of exams will help them to understand ways in which they can control these feelings better.
Targeted students only
Passport to the prom
In order to receive an invitation to the prom students have to meet certain expectations. These are straightforward and are personalised for each year group. This year the criteria was based around:

Behaviour – no exclusions
Attendance
effort

All students
Additional support in PE lessons
In certain circumstances where we are concerned that students may not achieve their Maths and English grades we will use PE curriculum time to support learning in these areas.
Targeted students only

Supporting Success Parent eveningsKey stage 4 information evening.Coffee and Cake

Pie and Peas

These are a series of evenings with different foci that allow us to work alongside parents to help them understand the challenges students face and how we can best support them.
Targeted students and their parents
Yr11 Additional Revision Support Calendar
There are no upcoming events to display at this time.
//this is how the content shows up
Our latest tweets:
Monday 4:46AM, Aug 13
We're
#hiring
...! See
https://t.co/krrRmg5BcB
for further information
#recruitment
#hiring
Now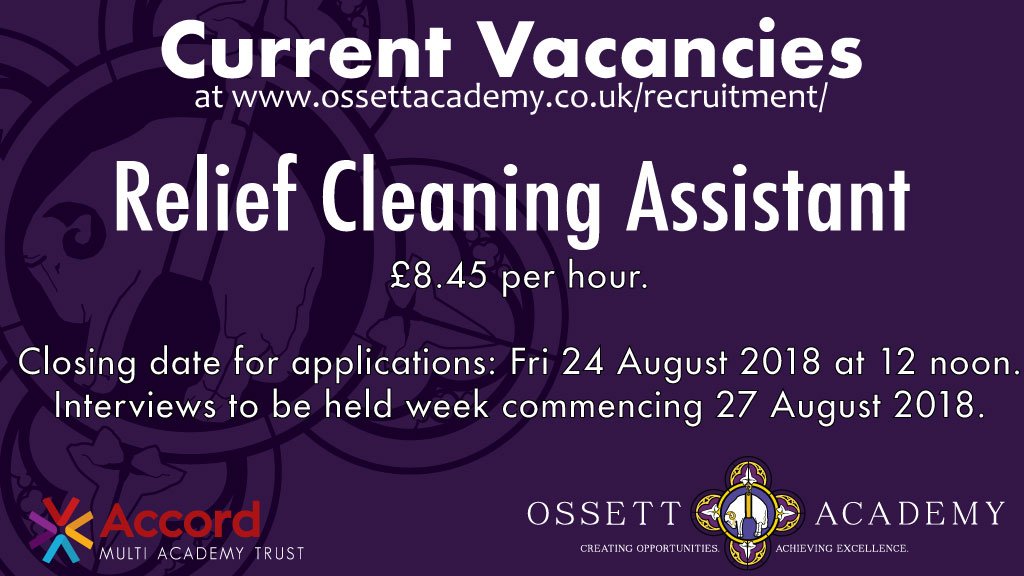 Monday 6:27AM, Jul 16
Our "Summer Festival" for Positive Recognition week is in full swing! Today year 10 students have enjoyed hotdogs,…
http