Uniform
Ossett Academy strongly believes that students should be smartly dressed. We expect all of our students to attend wearing the Academy's uniform correctly.
Uniform checks take place on a daily basis, as students arrive at the academy, and throughout the day. Any student wearing items that do not conform to our policy will be asked to change into Academy uniform or asked to go home and change (subject to parental permission).
Through consultation with staff, parents and students, we have established an Ossett Academy Mobile Phone etiquette. Unlike many other academies, we have chosen not to place a complete ban on mobile phones. Instead we will allow students to have mobile phones switched off and in their bag during the academy day and only to be used as a tool for learning under the specific direction of a class teacher. We believe this will better allow us to safeguard students and limit their access to screen time. Where a student is seen using their mobile phone around the academy outside of our guidelines, then the phone will be confiscated and parents will be asked to collect it at their earliest convenience.
SHIRT: Plain white shirt with stiff collar for wearing with a tie, always tucked in, and all buttons fastened.
Other types of shirt NOT allowed are: non uniform polo shirts or fashion blouses
BLAZER: Plain black blazer with Academy logo to be worn at all times.
TIE: Academy Dark Purple (Yr 7-10) / Dark Grey (Yr ll) coloured tie. Ties can be traditional or clip-on and should be worn properly fastened, with top buttons on shirts fastened at all times.
SWEATER (optional): Academy Black 'V' necked iumper or sleeveless iumper with purple trim.
Either style jumper must not be worn instead of a Blazer.  Hoodies must NOT be worn as they are not part of the uniform.
SKIRT: Plain black A-Line skirt with Academy logo of modest length, no more than 5cm above the knee or longer, and traditional style.
Skirts NOT permitted are: iersey and stretch material, shorter than 5cm above the knee. Skirts should not be rolled over at the top, or tied at the back.
TROUSERS: Traditional school trousers. Plain Black belt with standard buckle only.
Trousers NOT allowed are: chino style, cords, skinny/slim fit trousers made from stretch materials,  black denim or boot cut trousers.
SHOES: Traditional low heeled black sensible shoes.
Footwear NOT allowed are: Trainers, pumps (leather or fabric e.g. Vans), platform soles, fashion boots, backless shoes or sandals.
SOCKS/TIGHTS: Plain black socks with trousers. Plain black or neutral tights with skirts.
Coloured, striped or patterned socks are NOT permitted.
HAIRSTYLES: Hairstyles should be a sensible style with colour of natural tones and shades similar to the students' normal hair colour.
Extreme hairstyles such as Mohican, shaved and brightly coloured hair
or sharply contrasting colours are strictly prohibited.
MAKEUP: No make-up is allowed for years 7-10. Year 11 students are permitted to wear subtle
make-up. Coloured nail varnish or false nails are not allowed.
JEWELLERY: Other than one watch no other jewellery is permitted – this
includes: bracelets, necklaces, nose studs, tongue studs, eyebrow piercings and any other body piercing are NOT allowed.
Smart watches fall under the rules for mobile devices and thus should not be worn.
MOBILE PHONES: Mobile phones should be switched off, in students bags and should not to be seen or heard in or around the academy. Headphones are prohibited in the academy. The only exception to this would be under the specific instruction of a member of staff for a learning purpose.
PHYSICAL EDUCATION / DANCE KITS:
The following kits are compulsory for all students in years 7 – 11. All students must adhere to the Academy rules as below:
A note is required from Parents/Carers explaining the reason for their son/daughter not bringing their kits to PE or Dance lessons (alternative clothing as close as possible to the correct kit maybe supplied in an emergency as a temporary measure).
The practical work in Dance lessons is done in bare feet unless there is a medical reason which requires the student to work in trainers. Written confirmation from Parents/Carers is required to support this.
If a student is unable to take part in practical work in PE or Dance for a medical reason, written confirmation from Parents/Carers is required to support this. (Students will instead be given an officiating task to work on during the lesson. This will require them still to bring their kit.)
All PE / SPORTS / DANCE kit MUST be clearly named

FOR PE / SPORTS / DANCE
Navy and sky blue polo shirt with Academy logo (indoor lessons).
Navy and sky blue long sleeved sports shirt with Academy logo (outdoor lessons) or Black/navy skin under the polo shirt.
Plain navy shorts
Plain navy track suit bottoms (no stripes / large brand logos allowed)
Plain navy and sky blue knee high socks
Trainers without large 'brand' logos or bright colours
FOR SWIMMING
Plain navy one piece swimming costume(Girls) / Plain navy swimming trunks – Bermuda shorts are not permitted (Boys)
Plain navy swimming cap with/without logo
A towel is required
WE RECOMMEND THAT STUDENTS SHOULD ALSO HAVE THE FOLLOWING ITEMS:
Gum Shields & Shin Pads for Rugby and Hockey
Shin Pads for Football
FOR DANCE
Year 10 and 11 students: There are a number of specific details related to how students should dress for the Dance GCSE lessons. A letter covering this information will be given to all students who opt to take this course.
Other Essential Equipment
In order to effectively support all students to meet our 'Standards for Success', we ask that all students arrive to the academy prepared for learning with the following items of essential equipment:
A pen
A purple pen
A pencil
A ruler
A scientific calculator
A suitable bag in which to carry their books, planner and any specific equipment for practical activities
//this is how the content shows up
Our latest tweets:
Friday 6:07AM, Apr 05
We're hiring! Find out more at
https://t.co/E5BVa62IIx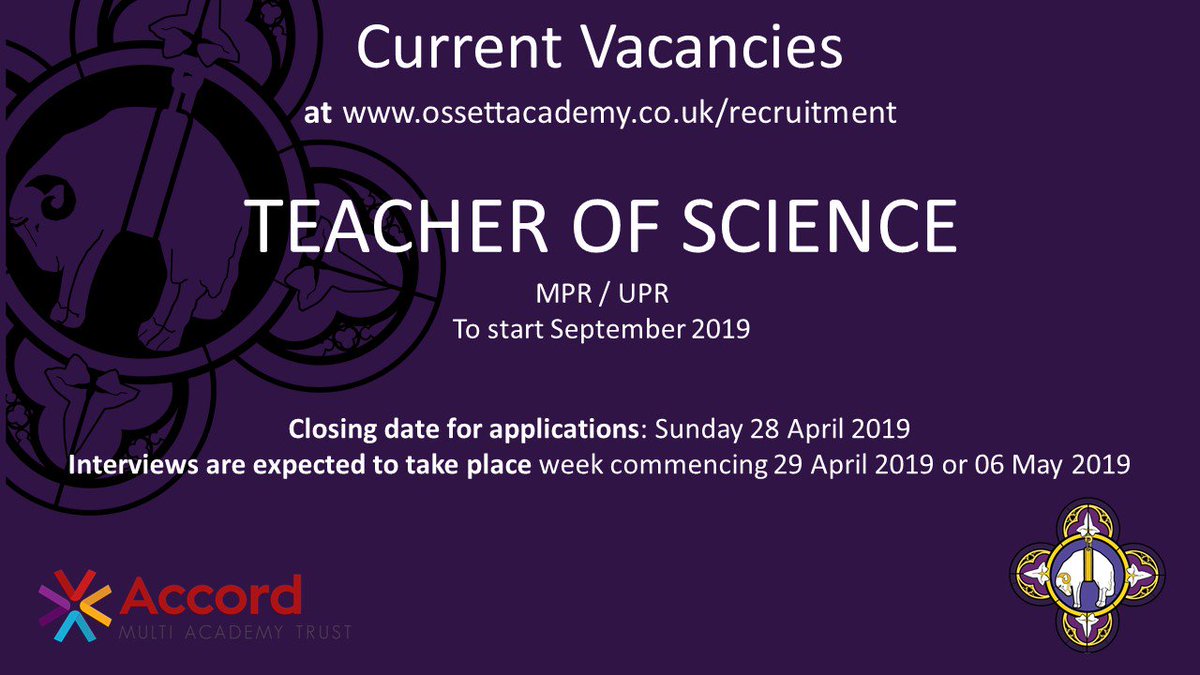 Friday 4:59AM, Apr 05
📰📰News, news and more news!! ...Find the Spring edition of Ossett Voice at
https://t.co/UczIhjpOaO
and the latest W…
http